Dental Implants – Framingham, MA
Teeth That Look & Feel Like the Real Thing
With the right care, your teeth are designed to last a lifetime. However, you don't need a dentist to tell you that's not always the case. If you're looking to rebuild your smile after tooth loss, we may recommend dental implants. While traditional prosthetic teeth rely on your gums or remaining teeth for support, dental implants sit within your jawbone, enabling them to look, feel, and function like natural teeth while lasting for several decades. Are you ready to finally put your tooth loss behind you? Then call Framingham Dental Group today to schedule your consultation to discuss tooth replacement with dental implants in Framingham, MA!
Why Choose Framingham Dental Group for Dental Implants?
Board-Certified Periodontist Can Place Dental Implants In-Office
Bone Grafting Offered for Patients with Jawbone Loss
Affordable Dental Financing Options Available
What Are Dental Implants?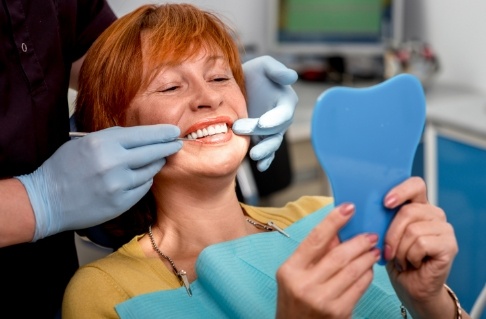 Dental implants are replacement teeth that are designed to replicate missing teeth in every possible way. They do this by bringing back the root structure of the teeth that is embedded in the jawbone. After we surgically place one of these titanium posts in your jaw, it naturally fuses to the bone tissue, enabling it to hold a custom crown, bridge, or denture in place for an average of 30+ years. This comprehensive structure is the main reason why dental implants come so highly recommended by dentists and patients alike!
The 4-Step Dental Implant Process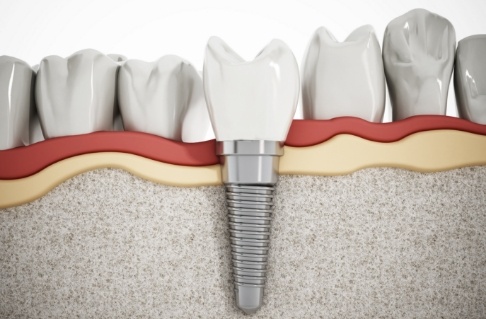 Getting dental implants is different from other tooth replacement options in that the process has stages, and it's going to take a number of months. The good news is the long-term impact they can make on your oral health is worth your time and effort to get them. At Framingham Dental Group, we take pride in completing the entire treatment at our office location so you don't have to be referred to a specialist. Dr. Smith is an experienced periodontist and implant specialist, as well as a Diplomate of the American Board of Periodontology. Details of the treatment process can vary by patient, but there are four stages on the way to having dental implants: consultation, surgery, implants fusing with your jawbone, and getting your final restoration.
Initial Dental Implant Consultation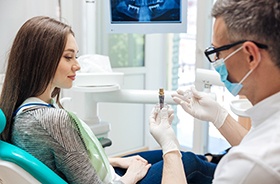 Dr. Smith needs to verify you are a viable candidate, so she will examine your oral health and review your medical history. You may need a preliminary procedure such as tooth extractions, gum disease therapy, or a bone graft. Once that is addressed, you can move forward, and we'll plan the remainder of your treatment for dental implants in Framingham. The consultation is an opportunity to talk through each step, including the timeline and pricing. It's also the perfect time for you to ask any questions.
Dental Implant Surgery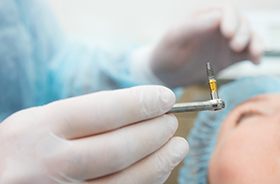 Dr. Smith has been improving patient smiles for more than 25 years, so you can feel confident she's going to deliver a top-notch result for your implant surgery. You'll have the benefit of already being familiar with her from the consultation. First, she'll numb the area because it's important you are comfortable during the procedure. Next, small incisions will be made in your gums, and the implants will be placed precisely in your jawbone. Your gums are sutured shut, and a protective cap is placed over each implant post.
Dental Implant Osseointegration & Abutment Placement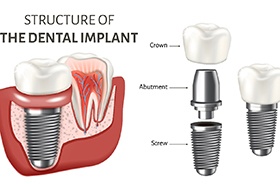 An essential term in the explanation of how dental implants work in Framingham, osseointegration refers to the process of the implant fusing with your jawbone, which provides the great stability this treatment is known for. It usually takes 3-6 months, and it's crucial the process is completed to ensure the long-term success of your dental implants. Once Dr. Smith verifies your implants have fused with your jawbone, she'll perform a smaller surgery to place an abutment atop each one of your implant posts. As you are healing with just a few weeks left in the process, your restorations will be crafted based on impressions we've taken.
Delivery of Dental Implant Restorations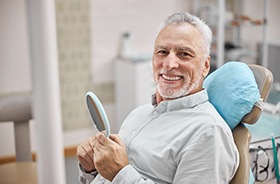 Whether you are getting a crown, bridge, or denture, a trusted dental lab will ensure your restoration is a perfect fit for your mouth. When it's ready, you'll return to our office to have your new addition attached to your abutment(s). Your implant dentist in Framingham will make sure your bite is comfortable and that your revamped smile meets your standards before you head off to share it with the world!
Benefits of Dental Implants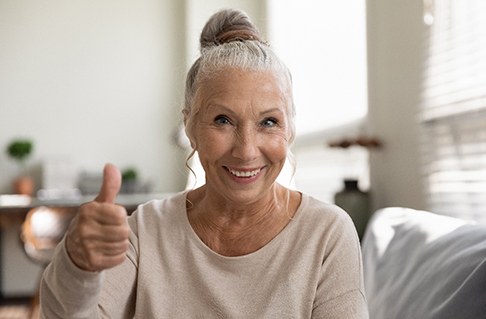 Ready to say goodbye to the gaps in your smile? Within the past few years, dental implants have become one of the most popular solutions for missing teeth. Because of their unique placement inside the jawbone, they offer several advantages that you simply can't get with more traditional methods like dentures and dental bridges. Below, you can learn more about how dental implants in Framingham can drastically improve your confidence, health, and overall quality of life.
Day-to-Day Benefits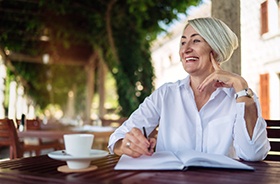 If you wear dentures, you may feel like your prosthetic limits your ability to enjoy your day-to-day life to the fullest, mainly because they slip out of place often. Well, dental implants can be a game-changer by offering the following benefits:
Stability – You won't need to worry about your teeth slipping, as the implants are firmly rooted in your jaw.
Easy Maintenance – With dental implants, you don't have to worry about purchasing special products or incorporating complex steps into your oral hygiene. All you have to do is care for them as you would care for natural teeth!
Better Speech – Since implants are firmly rooted in the jawbone, they allow you to speak clearly and confidently.
Health Benefits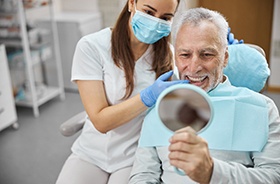 Beyond improving your daily quality of life, dental implants provide some incredible health advantages as well, including:
Jawbone Preservation – Dental implants are the only tooth replacement that stops and even reverses the jawbone deterioration that occurs after tooth loss. This not only protects your remaining teeth but also preserves your youthful facial features.
Protection for Natural Teeth – It's incredibly common for teeth to shift after tooth loss. Luckily, dental implants serve as placeholders to ensure every member of your smile stays exactly where it belongs.
Improved Overall Health – Studies have discovered a correlation between tooth loss and an increased risk of multiple diseases. Because dental implants are the next best thing to natural teeth, it's reasonable to believe they can help lower such risks.
Long-Term Benefits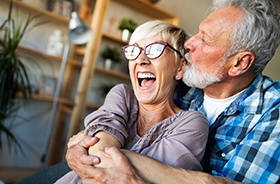 By choosing to get dental implants right now, you can expect them to help you out for years to come with the following benefits:
Reliable, Lasting Results – While dentures and bridges tend to break down after five to 10 years at most, dental implants last for 30+ years in more than 95% of cases.
Youthful Appearance – Dental implants stimulate blood flow in the jaw, preventing its deterioration and the sunken, aged look that often accompanies tooth loss.
Long Lifespan – Unlike dentures and dental bridges, dental implants can last decades without needing a replacement.
Who Can Dental Implants Help?
Another major benefit of dental implants is their versatility. We can use them to fill any number of gaps in your grin. Plus, most generally healthy adults are candidates for this treatment. Depending on how many teeth you've lost, we'll use one of the following treatment options:
Missing One Tooth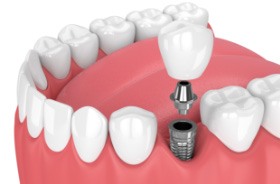 We can replace a single lost tooth by vertically positioning one implant post in the empty space. Then, we top it with a lifelike dental crown that perfectly recreates the look and feel of your missing tooth.
Missing Multiple Teeth
Instead of replacing each missing tooth with its own implant, we can bring back several teeth in a row by placing one implant at each end of the gap and securing a dental bridge onto them. This solution seamlessly "bridges" the gap without compromising the structure of your natural teeth.
Missing All Teeth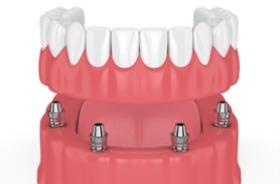 All it takes is just four to eight dental implant posts to anchor a full denture into place that gives all of the security of natural teeth. In fact, implant dentures look and feel so natural that many patients forget they've even lost teeth! This prosthetic stays in place at all times, making it easy to smile and eat again.
Understanding the Cost of Dental Implants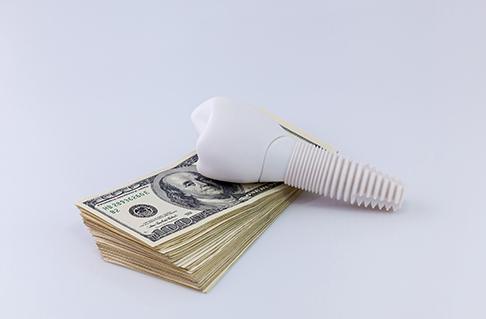 You don't have to be rich or famous to replace your missing teeth with dental implants. Despite the rumors, they are affordable for people from all walks of life. Various factors affect the cost of dental implants in Framingham, like the number of teeth you're treating. Our team at Framingham Dental Group believes money shouldn't stand in the way of a complete smile. We strive to keep dental implants within everyone's budget. We have the financial solutions you need to invest in the next best thing to your real teeth.
Preliminary Treatments & Dental Implant Surgery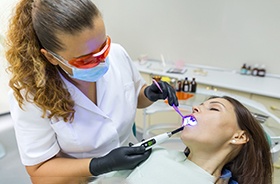 Replacing a tooth with a dental implant requires a multistep process that can take several months to complete. This can make it easier to budget for your new smile because you won't have to come up with a lump sum. The amount you'll pay is determined by your treatment plan. After examining your mouth, your implant dentist in Framingham will create a strategy to restore your smile, which can include:
Preliminary Treatments: It's not uncommon to need a little prep work, like tooth extractions or gum disease therapy.
Oral Surgery: Sedation or anesthesia will be used to keep you comfortable as your implant posts are placed into your jawbone.
Restoration: The number of teeth you're replacing will determine the type of restoration needed, like a crown, bridge, or denture.
The Parts of Your Dental Implant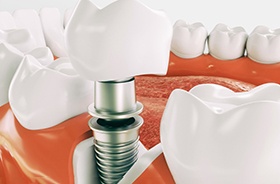 Your estimate covers each part of your dental implant. The components include:
Implant: A titanium post is placed into the jaw to serve as a new root.
Abutment: Each post will need a fixture called an abutment.
Restoration: The restoration is attached to the abutment to anchor it in place.
The materials used will also influence the cost. Although you can find discounted materials, they may be of low quality, which can affect the long-term success of your dental implants. Instead, it's better to focus on quality instead of the price tag.
How Dental Implants Can Save You Money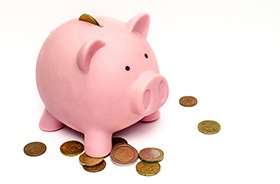 Dental implants are an investment, and not just because they look and feel natural. They have a success rate exceeding 95% and are proven to last for decades with the right aftercare, like brushing and flossing. As a result, they can pay for themselves over time because you won't need to budget for any replacements every few years, like with a traditional bridge or denture.
Does My Dental Insurance Cover Dental Implants?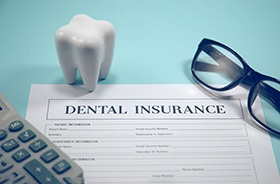 It's unlikely your dental insurance will cover the entire expense, but you can use your coverage to lower the amount required for certain steps in your plan, like your consultation, preliminary treatments, or restorations. We'll help you maximize any applicable benefits to reduce your out-of-pocket expense.
Making Dental Implants Affordable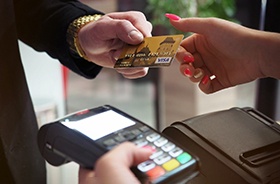 We offer many options to keep dental implants in Framingham affordable, including:
Traditional Payments: Our office accepts cash, checks, and credit cards.
Monthly Payments: Pay any out-of-pocket expenses using a monthly payment plan through a third-party financing company.
In-House Savings Plan: Enjoy discounted rates for common services by joining our in-house membership plan.
If you have any questions about your payment options, contact our office today.
Maintaining & Caring for Your Dental Implants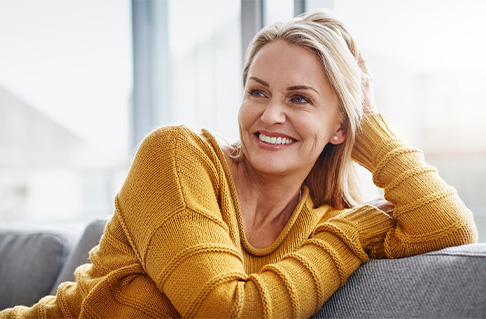 Did you know that dental implants typically boast a success rate of 95% or more, even 10 years after their placement? While this treatment has an impressive track record, it's still crucial that you retain a safe and healthy environment for your titanium posts to thrive in—meaning you'll need to keep good oral health in the long run. You should also consider various other measures to protect your new roots from getting damaged or placed at risk of infection. Read along to learn several essential ways to care for your dental implants so you can make the most of your renewed smile!
Make Oral Hygiene a Priority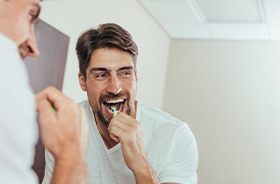 Even if your dental implants can't develop cavities, the rest of the tissues surrounding them can still be vulnerable to bacteria and infection. To avoid these complications, you'll simply need to care for your smile like normal. This should generally involve brushing twice a day, flossing daily or after meals, and rinsing with ADA-approved mouthwash. You'll also want to pay close attention to your gum health, as gingivitis around your implants can be devastating to them.
Eat a Healthy Diet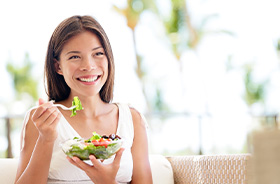 You'll usually have to stick with soft foods while undergoing the osseointegration process. Once you've healed and already have your implants, you can expect to choose from a much wider range of dietary choices. That said, you should consider avoiding foods that can put your new teeth at risk. Be sure to refrain from overindulging in sticky, hard, or sugary treats. For better oral and overall health, try sticking to a nutritious diet consisting of veggies, fruits, dairy products, lean meats, and whole grains. Pick meals that are rich in vitamin C and calcium to promote stronger jawbone and gum tissue.
Break Bad Habits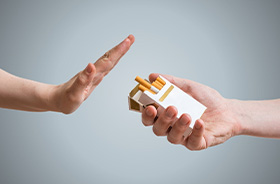 Other than improving your oral health, you'll need to watch out for certain lifestyle habits that can increase the risk of damaging your implants or making them fail. For this reason, if you have certain tendencies like biting your fingernails, chewing on ice, using your teeth for opening packages, or using tobacco products, now's the perfect time and reason to quit them. Try transitioning to chewing sugar-free gum for a healthier alternative. If you need assistance and resources to break any bad oral habits, feel free to consult your medical or dental professionals.
Protect Your Dental Implants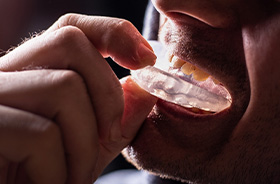 Although dental implants are durable like your natural enamel, they aren't invulnerable. Whether you actively play sports or even simply grind your teeth during sleep, you'll want to ensure to protect your smile from damage. Our team offers custom nightguards for bruxism that can help prevent wear and tear of your restorations. You may also want to consider investing in athletic mouthguards if you participate in contact sports. We can recommend the best products for your specific situation.
Schedule Regular Dental Checkups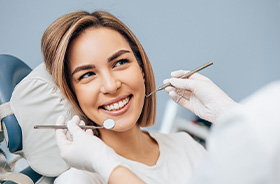 Biannual visits to your dentist are essential for both your natural and replacement teeth. Not only will they monitor the condition of your dental implants, but they'll also assess your oral health and address any developing issues they might find. This can help keep bacteria and more serious problems from coming up down the road.