Dental Implants – Framingham, MA
Teeth That Look & Feel Like the Real Thing
With the right care, your teeth are designed to last a lifetime. However, you don't need a dentist to tell you that's not always the case. If you're looking to rebuild your smile after tooth loss, we may recommend dental implants. While traditional prosthetic teeth rely on your gums or remaining teeth for support, dental implants sit within your jawbone, enabling them to look, feel, and function like natural teeth while lasting for several decades. Are you ready to finally put your tooth loss behind you? Then call Framingham Dental Group today to schedule your consultation to discuss tooth replacement with dental implants in Framingham, MA!
Why Choose Framingham Dental Group for Dental Implants?
Board-Certified Periodontist Can Place Dental Implants In-Office
Bone Grafting Offered for Patients with Jawbone Loss
Affordable Dental Financing Options Available
What Are Dental Implants?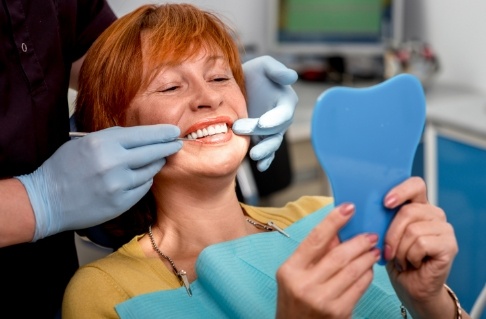 Dental implants are replacement teeth that are designed to replicate missing teeth in every possible way. They do this by bringing back the root structure of the teeth that is embedded in the jawbone. After we surgically place one of these titanium posts in your jaw, it naturally fuses to the bone tissue, enabling it to hold a custom crown, bridge, or denture in place for an average of 30+ years. This comprehensive structure is the main reason why dental implants come so highly recommended by dentists and patients alike!
The Dental Implant Process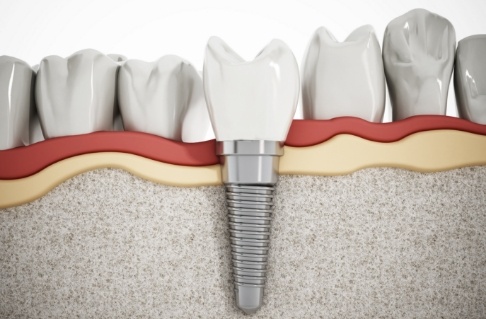 The unique three-part structure of dental implants means that they naturally come with a more complex and lengthier treatment process than bridges and dentures. When you consider that they can last for a lifetime, though, they're worth the wait!
In most cases, dental implant treatment is split into four phases:
Consultation – First, we make sure you're eligible for dental implants.
Surgery – Our board-certified periodontist, Dr. Valerie Smith, comes in twice a month to expertly place dental implants into a patient's jaw.
Osseointegration – Your jawbone grows around the implants over the course of three to six months.
Restorations – Finally, we place your custom crown, bridge, or denture on top of your implants.
Benefits of Dental Implants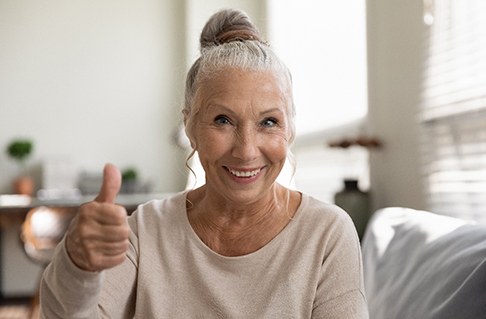 Ready to say goodbye to the gaps in your smile? Within the past few years, dental implants have become one of the most popular solutions for missing teeth. Because of their unique placement inside the jawbone, they offer several advantages that you simply can't get with more traditional methods like dentures and dental bridges. Below, you can learn more about how dental implants in Framingham can drastically improve your confidence, health, and overall quality of life.
Day-to-Day Benefits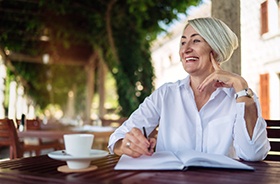 If you wear dentures, you may feel like your prosthetic limits your ability to enjoy your day-to-day life to the fullest, mainly because they slip out of place often. Well, dental implants can be a game-changer by offering the following benefits:
Stability – You won't need to worry about your teeth slipping, as the implants are firmly rooted in your jaw.
Easy Maintenance – With dental implants, you don't have to worry about purchasing special products or incorporating complex steps into your oral hygiene. All you have to do is care for them as you would care for natural teeth!
Better Speech – Since implants are firmly rooted in the jawbone, they allow you to speak clearly and confidently.
Health Benefits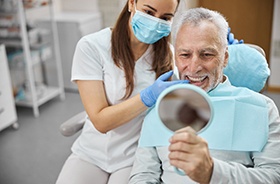 Beyond improving your daily quality of life, dental implants provide some incredible health advantages as well, including:
Jawbone Preservation – Dental implants are the only tooth replacement that stops and even reverses the jawbone deterioration that occurs after tooth loss. This not only protects your remaining teeth but also preserves your youthful facial features.
Protection for Natural Teeth – It's incredibly common for teeth to shift after tooth loss. Luckily, dental implants serve as placeholders to ensure every member of your smile stays exactly where it belongs.
Improved Overall Health – Studies have discovered a correlation between tooth loss and an increased risk of multiple diseases. Because dental implants are the next best thing to natural teeth, it's reasonable to believe they can help lower such risks.
Long-Term Benefits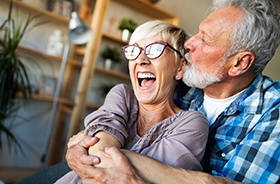 By choosing to get dental implants right now, you can expect them to help you out for years to come with the following benefits:
Reliable, Lasting Results – While dentures and bridges tend to break down after five to 10 years at most, dental implants last for 30+ years in more than 95% of cases.
Youthful Appearance – Dental implants stimulate blood flow in the jaw, preventing its deterioration and the sunken, aged look that often accompanies tooth loss.
Long Lifespan – Unlike dentures and dental bridges, dental implants can last decades without needing a replacement.
Who Can Dental Implants Help?
Another major benefit of dental implants is their versatility. We can use them to fill any number of gaps in your grin. Plus, most generally healthy adults are candidates for this treatment. Depending on how many teeth you've lost, we'll use one of the following treatment options:
Missing One Tooth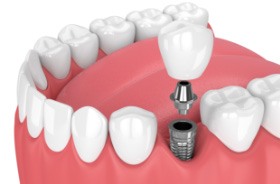 We can replace a single lost tooth by vertically positioning one implant post in the empty space. Then, we top it with a lifelike dental crown that perfectly recreates the look and feel of your missing tooth.
Missing Multiple Teeth
Instead of replacing each missing tooth with its own implant, we can bring back several teeth in a row by placing one implant at each end of the gap and securing a dental bridge onto them. This solution seamlessly "bridges" the gap without compromising the structure of your natural teeth.
Missing All Teeth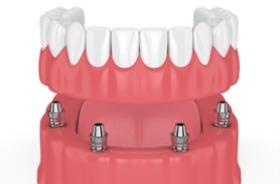 All it takes is just four to eight dental implant posts to anchor a full denture into place that gives all of the security of natural teeth. In fact, implant dentures look and feel so natural that many patients forget they've even lost teeth! This prosthetic stays in place at all times, making it easy to smile and eat again.
Understanding the Cost of Dental Implants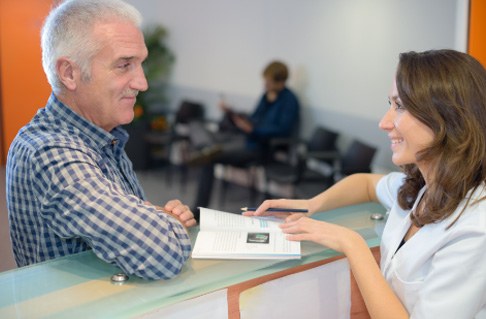 Dental implants don't come with a fixed cost, as the details of each patient's treatment can vary significantly. Our team will take the time to go over each of the factors affecting the price of your new smile as well as your payment options. Keep in mind that even if dental implants seem expensive at first, their impressive longevity, easy maintenance, and day-to-day benefits make them a worthwhile investment in the long term.